Welcome to the Unofficial Luci's Toyshop Homepage!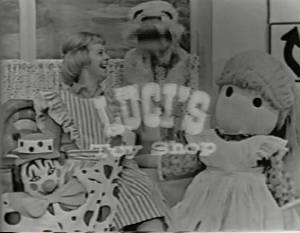 Mr. Happy, Luci, Walrus, and Doll -- as the credits roll, 1966
Luci's Toyshop was a daily childrens television show broadcast on WBNS-TV in Columbus, Ohio from 1960 until 1972.
This website is a on-line museum of Luci's Toyshop history -- an archive for research and education. Our purpose is to honor Luci and the gang by sharing the show's history, photos, memorabilia, and personal fan memories. We hope you enjoy it.

How should we describe Luci's Toyshop? To begin -- it was a local children's TV program broadcast live, weekdays at 9:00 a.m., on WBNS-TV in Columbus, Ohio. Luci's Toyshop reached mostly children in Central Ohio. But, on a clear day (remember, back before cable or satellite, when the weather really effected TV reception??) -- on a clear day, the signal could reach much of the State. So, Luci's Toyshop brings back memories to thousands of Ohio baby-boomers -- urban, suburban, and rural.



1968 TV Guide ad for Luci's Toyshop

The show's star, host, and only featured "human" character, was Lucille Gasaway -- the pretty, soft-spoken owner of a toyshop said to be somewhere near Columbus. In her red and white-striped pinafore, Luci could best be described as a female "Captain Kangaroo."



Captain Kangaroo -- late 1950s TVGuide cover

Luci's gentle life-lessons, played-out with her puppet friends, were reminisent of those going-on an hour earlier in Captain Kangaroo's Treasure House -- WBNS was a CBS affiliate. Like Captain Kangaroo, Luci played the adult (or parent figure), while the puppet characters displayed the personalities of children.

There were also similarities to another now-famous gentle children's TV host. Although most Ohioans were unaware, a show similar to Luci's Toyshop was developing in Pittsburgh -- a program called Mister Rogers' Neighborhood. But because this was the "pre-cableTV" era, and even UHF was still in it's infancy -- most Ohioans had little access to Public Television, and PBS's nationally-broadcast childrens television shows.



Fred Rogers

To those who are totally unfamiliar with Luci's Toyshop -- Luci's gentle format could have completed an inspired television trilogy between herself, Captain Kangaroo, and Fred Rogers. In other words -- think of either The Captain or Mister Rogers, and you've pretty much defined Luci.

The Columbus Dispatch tells us that Luci's Toyshop was a spin-off / replacement of sorts for another WBNS kid's program called

All Aboard

(later re-titled,

TV Kindergarden

). Although little is known of the parent show, it was hosted by a performer named Betty Jones. Gasaway worked with Jones for approximately five years as an assistant; and Luci's most lasting contribution to the show was performing as the puppet, Stanley Mouse. When Ms. Jones died in 1960, WBNS needed a replacement show -- and quickly. So, a new program was created around Luci and Stanley Mouse --

Luci's Toyshop

.

Luci's Toyshop was the second local Columbus program to be broadcast in color (the first was

Flippo's Early Show

), and her show aired live every weekday for twelve years. When Luci took her annual vacation, the show went-on -- typically with a replacement adult-figure. One of several Columbus celebrities (usually from Channel 10) would host the show, talk with the puppets, speak to the children, sing the songs, etc. For example, during one of Luci's absences in the late-1960s, Tom Ryan -- the handsome, serious 6:00 p.m. news anchor at WBNS-TV -- donned a red and white-striped sportcoat (which matched Luci's pinafore) and replaced Luci in the Toyshop for two weeks. Can you imagine your local TV news anchor talking to puppets and singing kids' songs at 9:00 a.m. for two weeks straight?? Well, times have changed.

Although all TV shows evolve over-time, the only major format-change at Luci's Toyshop took place around 1967, when the show expanded from thirty to sixty minutes and added an on-camera studio audience of kids.

Luci's Toyshop left the airwaves in 1972, after a twelve-year run. And, Lucille Gasaway returned to work full-time at her Columbus puppet-making company,

Sheram Puppets

.

WBNS-TV made one more attempt at producing local children's television when a new show,

Friendly Junction,

replaced Luci's Toyshop in the 9:00 a.m. daily time slot.

That's a short history of Luci's Toyshop. But, there's lots more to learn . . .

So, explore the entire site and enjoy it! Links to all our various page topics are on the upper-left side of your screen. And send us your feedback. We are always looking for additional historical information, memorabilia, and photos. You can contribute to our guestbook -- accessible on our

Contact Us

page. Or feel free to email us at:

lucistoyshop@lycos.com

.

Do you have memories of Luci's Toyshop to share?

Stanley Mouse by Sheram Puppets, 1969

We enjoy receiving emails and hearing from other Luci's Toyshop fans. Often fans will write -- "I enjoy the Luci's Toyshop Homepage, and have so many memories of the show. Is there a way I can contribute my memories to the site?"

Well, the most helpful things you can contribute are your memories. If you find historical errors here, please help us correct them. Or, if you have information to contribute to a particular section of the site, we'd love to hear about it. We'll find a place for your comments.

If you have other Luci memorabilia and souvenirs (photos, newspaper articles, TV-Guide ads, etc.), we would be happy to accept your contributions to be displayed on the site. The best way to do this is through digital photos emailed to us, and then we'll upload your photos to the website -- giving you credit, of course.

If you would like to communicate with other Luci's Toyshop fans in an on-going forum, you might enjoy the message-board on -- The Luci's Toyshop Yahoo Group. Here's the link:

Additionally, you can share memories in our guestbook -- accessible on the

Contact Us

page.



Luci, Stanley Mouse, Pierre, and Lion in an early promotional photo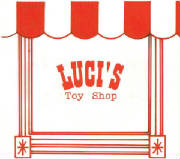 Original Luci's Toyshop Logo
The Unofficial Luci's Toyshop Homepage serves as a library and public archive for research, pleasure, and education. The intellectual property rights of all copyrighted media presented here are fully recognized. The Unofficial Luci's Toyshop Homepage makes no claims of association with any domestic or foreign broadcast or production entity. No copyright infringement is implied or intended, and use of all trademarks fall under "Fair Use," section 107 and 108 of the Copyright Law of the United States of America.
The Unofficial Luci's Toyshop Homepage