Learn a little more about the cast . . .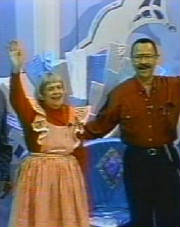 Lucille VanLeeuwen and Chuck White in 1995
The cast of Luci's Toyshop was small. For the most part, it was just Luci and her puppet friends. Additionally, Chuck White's role as puppeteer, writer, and producer, made him as beloved as Luci in the minds of kids all-over Ohio.
The links below will provide biographical information on Luci and Chuck White. Enjoy!