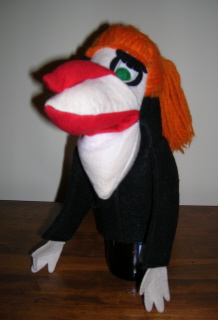 Sheram Puppets -- Wonder Witch toy puppet, circa 1969
Sheram Wonder Witch . . .
Emily and Todd Flowers sent us this photo of their original 1968 Wonder Witch toy puppet from Sheram Puppets. Todd has a childhood memory, that his mother had gone shopping with friends to Columbus. When she returned late that night, she brought him several puppets from Luci's Little-Shop. Unfortunately, Wonder Witch is the only one Todd and Emily can find at this time.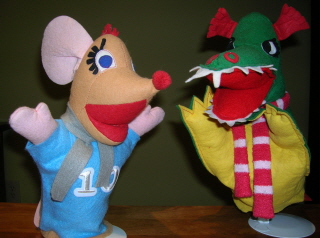 Stanley Mouse and Dragon from Sheram Puppets
Sheram Stanley Mouse and Dragon . . .
"I've had these two puppets since I was around nine years old. How in the world are they in such good shape, after all these years?? Well, we moved to California around 1970, and some of my toys (including these two puppets) never got unpacked.
Years later, just before I got married, my father brought this box down out of the attic. It was full of old toys I had forgotten about. And, these two puppets. So, here's a pic of them, in pretty good shape for their age."
-- Cassie Norton
Making Replica Puppets . . .
"I was a fairly good seamstress when my kids were young. So, when they were so crazy about the Lucy's Toy Shop puppets, I bought some felt and made three or four of the puppets for them to play with. This must of been around 1964, when we moved to Washington C.H., Ohio and watched channel 10 and 6. I remember copying the dragon puppet and lamb, and the poodle puppet. Those were fairly easy to copy, and they looked pretty good. We also tried to make another one, but it didn't turn out very well. I think it was the Stanley mouse. Too complicated. I wish I had pictures of them all. Sorry, but I don't."
-- Mrs. Beth Davis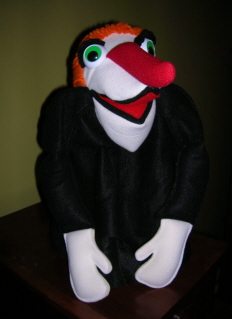 Original Wonder-Witch puppet from the Crystal Palace Tribute to Luci's Toyshop, 1995
Wonder Witch Puppet from the TV Reunion Show . . .
"For my 40th birthday, my brother surprised me with this puppet. This is actually the Wonder Witch puppet used back in the 1990s for the Luci's Toyshop / Crystal Palace reunion special.
He told me how Luci and her staff had made new puppets for the special reunion. And he was able to find this at an auction. Well, it's in great shape, apparently used only one time - by Luci herself. I cherish it.
Does anyone know who has the other reuion puppets? I understand they were all re-made for the special."
-- Julia Tenney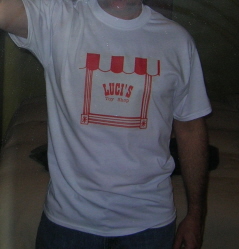 Luci's Toyshop T-shirt
Logo T-shirt . . .
Aaron from Florida, recently sent us this photo of his Luci's Toyshop t-shirt. He tells us, it was created by his wife, Karen -- using ink-jet t-shirt transfer paper and an electric iron. Aaron enjoyed Luci's Toyshop from childhood hometown of Chillicothe, Ohio during the 1960s. And now, when he wears the t-shirt, people often comment on it, and ask where they can get one for themselves -- even in Florida.
Lot's of people must remember Luci.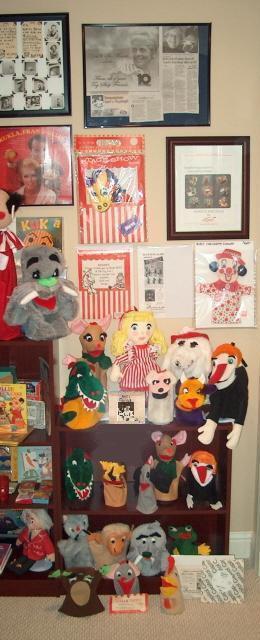 Framed newspaper articles, trade ads, many Sheram puppets, Luci doll, dvd, and Chicken Fat record
A Huge Luci Collection . . .
"Growing up in the '60s I was an avid Luci fan. I watched her as much as I could . . . especially during the Christmas season. I wanted so much to be on her show . . . But my mother worked 12 hours per day during the week and there was just no way she could take a day from work to drive to Columbus (I lived in Lancaster, Ohio).
As an adult I began to collect toys from my childhood which included Captain Kangaroo, Mr. Magoo, etc. So, I began my search on Luci's puppets. This was several years ago and, at that time, I thought that Luci had passed on. Our director at work told me to contact Chuck White at Channel 10 and he may be able to tell me where I could find the puppets. I sent an e-mail to Chuck who told me to contact Sheram Puppet Industries. I called one afternoon from work and began telling my story of how I just loved Luci, had always wanted to meet her and was looking for her puppets. The lady I was speaking to told me she was Luci. I then began telling her how lucky she was that her mother was Luci -- when she told me "No honey, I am Luci."
To make a long story short, within a week, I got to meet Luci, I purchased the puppets and she signed the DVD that was released in the Columbus area for me. Several months later, Luci passed away.
I will always be grateful to Luci for giving me such a memorable childhood and most importantly, making my dream come true -- I finally met Luci.
Thanks for great website!"
-- Mona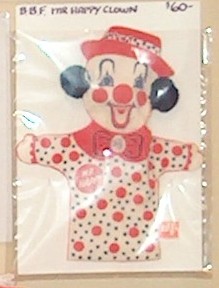 Mona's collection includes a very rare Mr. Happy puppet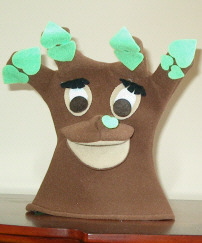 Mona has some seldom seen Luci memorabilia -- including this Mr. Tree hand-puppet
Do you have Luci's Toyshop puppets, souveniers, or other Luci memorabilia, that you'd like to share with fellow fans? Just email us a clear digital photo of the item(s), along with a short description or history (one or two paragraphs), and we'll include them on this page in our next update.
The Unofficial Luci's Toyshop Homepage