Information on the history of Luci's own puppet and toy company . . .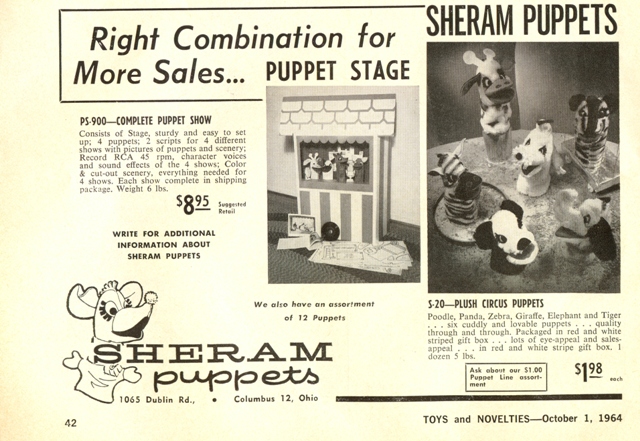 Sheram Puppets trade ad -- 1964
Fans of Luci's Toyshop always loved the puppets – Dragon, Stanley Mouse, Pierre, Wonder Witch, and so many others. And many Columbus-area fans remember that several of the puppets were available as children's toys at various stores around the region.
However, relatively few are aware that, in addition to hosting her own kid's TV show, Luci also owned and operated a thriving puppet-making business in Columbus, Ohio.
Sheram Puppets (the name derives from combining the names of Luci's two daughters, Sheri and Pam) manufactured puppets, dolls, and educational toys for nearly forty years and was owned by Luci and her husband until Luci's death in 2003.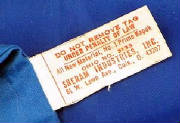 The Sheram Puppets label
Surprisingly, Luci's involvement in puppet-making actually pre-dates Luci's Toyshop -- most would assume the opposite. And at its height, Sheram Puppets employed more than 300 sewers. In a 1996 interview with the Columbus Dispatch, Luci mentioned that she started the puppet company because the family had moved-around so often, and she wanted a business that could move-along with them. She fully expected that Columbus was only a temporary stop -- but that was before she would be forever tied to the city (and, the entire region) through a television show featuring her puppets, Luci's Toyshop.
According to old product tags and trade ads, Sheram Puppets had three different Columbus addresses during its long history. Originating on Tremont Road, and later moving to a Dublin Road address, the company spent its final thirty-five years at 61 West Lawn Avenue.
Although Sheram Puppets (also known as Sheram Industries) produced hundreds of puppets and stuffed-toys, the company was probably best known for making affordable toy-versions of Luci's Toyshop puppets: Stanley Mouse, Dragon, Wonder Witch, and Walrus; plus there were puppets similar to Froggie and Pierre Poodle. Today, those Luci's Toyshop-related puppets have become collector's items all around Central Ohio. So, check your closets, fans.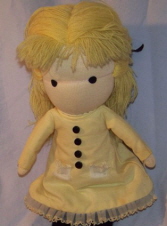 A Joan Walsh Angland doll by Sheram
Long after Luci's Toyshop left television, Sheram Puppets continued to produce puppets and toys available mostly to schools and churches to be used as educational aides. Additionally, the company gained some fame as an official producer of several versions of the "Brutus Buckeye" doll (mascot of The Ohio State University) and for producing a Colonel Sanders stuffed doll, commissioned by KFC. In the 1960s, greeting-card and gift designer, Joan Walsh Angland, contracted with Sheram to manufacture a line of dolls based upon Angland's designs.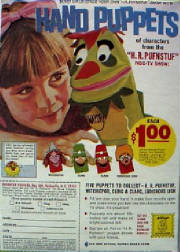 HR Pufnstuf felt puppets offer from Kellogg's Pop-Tarts package
In the early-1970s, Sid and Marty Croft Productions (along with Kellogg's Cereals) commisioned Sheram Industries to produce inexpensive felt puppets based on their H.R. Pufnstuf characters. These puppets were offered as a mail-in premium promotion for Kellogg's Pop-Tarts. The felt Witchie-Poo puppet was nearly identical to Sheram's Wonder-Witch -- only the colors were different. And the H. R. Pufnstuf puppet was arguably more similar to the Luci's Toyshop Dragon, than to the man-in-a-costume Pufnstuff dragon we saw on Saturday mornings.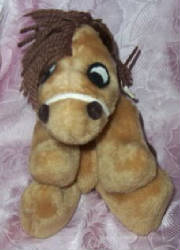 A Bean-Boy horse by Sheram
Additionally, Sheram was ahead of its time when, in the late 1960's, they produced a popular line of small bean-stuffed plush toys called Bean-Boys. Two decades later, the TY toy company would make millions and create a phenomenon with a very similar line of collectible toys -- Beanie-Babies.
Sheram Puppets closed shortly after Luci's death in 2003.