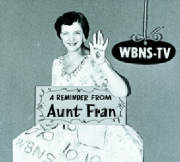 Aunt Fran publicity photo
In his book, Hello There, Boys and Girls: America's Local Children's TV Programs, author Tim Hollis offers a well-deserved tribute to Luci's Toyshop. However, there is a major error in his history of Luci's show. Hollis blends the history of Luci's Toyshop with that of Aunt Fran and Her Playmates -- indicating that Luci's show was a direct spin-off of Aunt Fran. That assertion is incorrect.
Hollis seems to have overlooked the real connection between Aunt Fran's show and Luci's Toyshop -- another WBNS-TV kid's program called, "TV Kindergarten." So, here's the accurate chronology: When Aunt Fran (Fran Norris) retired, her show was turned-over to her assistant, Betty Jones and re-named "All Aboard". Later, Jones' program was again re-named "TV Kindergarten". When Jones died suddenly in 1960, WBNS-TV encouraged Lucille Gasaway to develop a daily kid's program -- and that was the beginning of Luci's Toyshop.
However, Hollis's history of the Aunt Fran progam is otherwise accurate --
According to Hollis, Fran Norris originally hosted a daily 11:00 a.m. kid's show entitled, TV Babysitter. But, as "Aunt" Fran's popularity grew, the show was renamed, Aunt Fran and Her Playmates, and moved to the 4:30 p.m. time-slot. The show co-starred big-name comedian and Ohio native, Jonathan Winters.
Fran Norris was imortalized in a 2001 documentary film, Making Television History: Aunt Fran and Her Playmates, by Ohio University professor, Norma Pecora.
For more information on Aunt Fran and Her Playmates, check out the following two links:
Aunt Fran -- Ohio University PERSPECTIVES
Aunt Fran -- University Maryland Library of Broadcasting
We're interested in more information regarding Aunt Fran and Her Playmates. If you have photos, publications, or other information about this early WBNS-TV kid's show, please email us at
lucistoyshop@lycos.com
.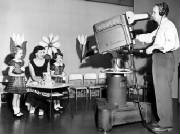 Aunt Fran and Her Playmates in the WBNS studio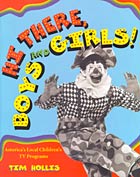 "Hi There, Boys and Girls" -- by Tim Hollis