Characters/Cast:
Santa Claus -- Tom Gleba
Luci -- Lucille Gasaway VanLeeuwen
Puppeteer -- Chuck White
Fan contribution . . .
This is a mid-1960s memory -- "Every year, two or three weeks before Christmas, Santa Claus would arrive at Luci's Toyshop. He would appear on Luci's show a time or two and then, spin-off into his own daily show immediately after Luci's Toyshop ended.
I believe the Santa show was called Santa's Workshop, and it was a thirty-minute show beginning at 9:30 a.m., back when Luci was also thirty-minutes (airing 9:00 to 9:30 a.m.). Santa always had some excuse for staying near Columbus, even though Christmas was coming and he was needed at the North Pole. And he would set-up a workshop somewhere near Luci's Toyshop. So near, in fact, that Luci visited Santa nearly every day to describe the toys coming out of Santa's toy machine (all conviently provided by, and available at Lazarus department store).
As I recall, Santa's show featured little more than Santa reading aloud, "letters to Santa" sent-in by fans of Luci's Toyshop. And then, he and Luci would spend ample time displaying toys from the toy machine, as they came out on a big conveyor-belt. The toys were always said to be available at Lazarus, and often the price was displayed as well. To be quite honest, the entire show was really one big commercial for Lazarus' toy department. But, that didn't seem so terrible back then, when all local kid's shows integrated commericals into their entertainment and educational segments.
Other fans who remember Santa's Workshop may agree, despite all the commercialism, this show was mesmerizing. It was great children's television, mostly because of the actor who played Santa. Although I never knew his name, he was certainly the BEST television Santa I have ever seen. The gentleman read the childrens' letters with such interest and respect -- well, he actually made those letters interesting to viewers -- otherwise, they could have been as boring as reading the phone-book. Long after I stopped believing, I can remember thinking, if there were a real Santa, he would certainly be this guy.
Also featured on the show were eight reindeer puppets, very similar in style to all the puppets on Luci's Toyshop, so no doubt designed and created by Luci herself. Sometimes the reindeer would sing Christmas carols or interact with Santa and Luci.
Santa's Workshop followed Luci's Toyshop annually, during the Christmas season, up through the late 1960s. I assume the show got crowded-out when Luci's Toyshop expanded to a permanent sixty-minute program around 1968. But, it may have lasted longer than that."
-- Mark Pate
Santa Claus identified!
Many fans have asked about the identity of the actor who portrayed Santa Claus on Channel-10. Well, thanks to a tip from former WBNS-TV broadcast engineer, Tim Cook, Santa has been identified as Mr. Tom Gleba. We've learned that Mr. Gleba was much more than just a television Santa Claus. Before his death in 2005, he enjoyed a stellar broadcasting career across North America, and has been described as a "TV pioneer." To learn more about the long career of Tom Gleba, just click on the link below: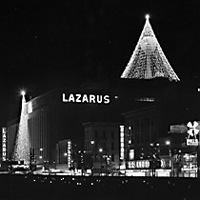 Lazarus Department Store , Downtown Columbus, OH -- Christmas season, 1963
We're looking for more material on Santa's Workshop. If you have photos, memories, or information -- please email us.